Faculty and Fellows As Clinician Educators (FACE) Course
The FACE course is dedicated to improving the medical education and clinical teaching skills for early career faculty and subspecialty fellows at UC San Diego.
The mission of this course is to provide training, skills development, and mentoring for junior faculty and subspecialty fellows interested in pursuing a career as a clinician-educator. We also aim to create a community of practice for individuals who are passionate about medical education at UC San Diego.
Specific objectives include:
To increase confidence in clinical teaching, leadership, communication, and medical education scholarship skills
To increase fund of knowledge in core medical education content and principles
To apply principles of adult learning theory
To facilitate medical education innovations and scholarship
To support achievement of career goals including positions as academic clinician-educators
Co-Directors
Darcy Wooten, M.D. (she/her/hers) is a 6th generation Californian and Associate Professor of Medicine in the Division of Infectious Diseases and Global Public Health at the UC San Diego.  She did her undergraduate studies in Human Virology at Stanford University before completing medical school and Internal Medicine residency training at UCSF.  She also earned a Master of Science degree from UC Berkeley doing research on Pseudomonas aeruginosa infections. She completed her Infectious fellowship at Harbor UCLA before joining the faculty at UC San DIego in 2014.  Her clinical interests include HIV Medicine and General Infectious Diseases. She serves as the Infectious Dieases Fellowship Program Director and as a course director for the Clinical Foundations course for first and second-year medical students.  Dr. Wooten is a self-proclaimed Medical Educationist and Med Ed Enthusiast! 
Erica Lin, M.D. is an Assistant Professor and clinician educator in the Division of Pulmonary, Critical Care, and Sleep Medicine at UC San Diego and VA San Diego Health System. She completed her undergraduate training at Duke University, earned her medical degree at University of Alabama at Birmingham, and finished her residency at Mayo Clinic. She completed her PCCM fellowship training at UC San Diego prior to joining faculty. She serves as the Associate Chief of Staff in Education (Designated Education Officer) and is the co-director for the Foundations of Medicine course for the first-year medical students and second-year pharmacy students. Her research interests are in medical education including curricular development and the use of technology in medical education. She has received two grants in medical education research and has multiple publications in the field. 
Jennifer Yu, M.D. is a pediatric hematologist oncologist at Rady Children's Hospital-San Diego and an Associate Clinical Professor in the Department of Pediatrics at UC San Diego School of Medicine. She completed her undergraduate studies at Princeton University and earned her medical degree at Robert Wood Johnson Medical School in New Jersey. She completed both her pediatric residency and pediatric hematology oncology fellowship at UC San Diego. In addition to teaching medical students, residents, and fellows on the wards and in the clinic, Dr. Yu is the Co-Program Director for the UCSD Pediatric Hematology Oncology Fellowship Program. She also directs the pediatric hematology oncology resident rotation and medical student clerkship. She is passionate about helping trainees become medical educators. She established the Fellow as Clinician Educator Track (FACET) for UCSD pediatric fellows who are interested in medical education and scholarship.
Jacob Bailey M.D. was raised in a bicultural home in the Los Angeles Harbor Area. A circuitous route led him from factory work, to construction, to the research laboratory where he was introduced to medicine. He received his medical degree from the UCSan Diego School of Medicine. As a member of their Program in Medical Education-Health Equity, he earned a master's degree in education at the University of California, Los Angeles during his medical training. Dr. Bailey is a board-certified internist and pediatrician, completing residency and chief residency at Los Angeles County + University of Southern California Medical Center. Dr. Bailey has held national leadership positions in organized labor, regional leadership positions in affinity groups, twice been elected to the Gold Humanism Honor Society (as a student and resident), and worked in institutional committees on both undergraduate and graduate medical education. His research interests include the role of self-identity constructs (i.e. race, gender, language) on physician-patient interactions in the ICU, the interrelationship of who/how/what we teach and its role in medical education, as well as transitions of care for adolescents and young adults with chronic lung diseases.
Dan Crouch, M.D. is an Associate Professor of Medicine in the Division of Pulmonary, Critical Care, and Sleep Medicine at UC, San Diego. He earned his medical degree from the University of Iowa College of Medicine and completed his residency training in internal medicine at Barnes Jewish Hospital/Washington University in St. Louis, where he also served as chief resident. He did his fellowship training at UC San Diego School of Medicine in pulmonary and critical care medicine prior to joining the faculty. He is currently the Pulmonary & Critical Care Medicine Fellowship Program Director with a passion for medical education, serving on state and national medical education committees in the past and has been the recipient of multiple teaching awards. He is an educator in the UC San Diego Center for Resuscitation Science and enjoy teaching at all levels of training, including medical students, residents, and fellows. He has a clinical interest in airway disease and research interests in pulmonary physiology and gas exchange.  When not in the hospital, you will find him watching or coaching one of his four kids out on the sports fields or watching Padres baseball with his wife, Leslie.
Dr. Michelle Daniel is Vice Dean for Medical Education and Professor of Clinical Emergency Medicine at the University of California, San Diego School of Medicine. She obtained her medical degree from Johns Hopkins Medical School in 2002 and completed her emergency medicine residency at Johns Hopkins Hospital in 2005. She subsequently obtained her Masters in Health Professions Education from Maastricht University in the Netherlands. Dr. Daniel went to Brown University after her training, where she started her career in medical education serving as their Doctoring Course Director. Prior to coming to UC San Diego, Dr. Daniel served for 6 years as the Curricular Dean for Undergraduate Medical Education at the University of Michigan. Dr. Daniel is an internationally known scholar in medical education and well-published in the field. She is an Associate Editor for Medical Teacher and co-chairs the Best Evidence in Medical Education (BEME) Collaboration Council. Her current scholarly interests include clinical reasoning, AI, USMLE examinations, and well-being.  
Sean J. Evans, M.D. serves as Associate Dean of Undergraduate Medical Education for the School of Medicine, and as Health Sciences Clinical Professor in the Department of Neurosciences.  He is a comprehensive neurologist and medical educator. He has led core pre-clinical and clinical courses in Neurology, and multiple elective courses, and his work has been recognized with multiple teaching awards. Away from UC San Diego, he is a member of the United States Medical Licensure Examination management committee, and chairs multiple National Board of Medical Examiners content committees. Outside of medicine, he loves spending time with his wife Sarah, their kids, Sam and Nate, as they explore all of the fun available in San Diego and the greater world.
Ali Farkhondehpour, M.D. received his medical degree from Oregon Health & Science University and completed his internal medicine residency at the UC San Diego. In addition, he served as a Chief Medical Resident prior to joining the Division of Hospital Medicine at UC San Diego in 2017. As an academic hospitalist, Dr. Farkhondehpour has a specific interest in medical education. He serves as the Co-Site Director for the third-year medical students internal medicine rotation at Hillcrest, Associate Program Director for the Internal Medicine Residency Program, and faculty for the first- and second-year medical student point-of-care ultrasound course. Dr. Farkhondehpour is also the director of the Hospital Medicine Pathway for the Internal Medicine Residency Program. The pathway is a new educational curriculum that is designed to enhance the internal medicine residency experience with additional training for residents interested in a career in hospital medicine.
Charlie Goldberg, M.D. As a leader in medical education, I have spent over 20 years teaching the full spectrum of learners, from early medical school, through residency training, and onto the faculty level. This has given me an in-depth knowledge of curriculum development and engagement with learners at every point in the process. And has positioned me well in my new role as Associate Dean of GME and DIO.  At UCSD medical school, I created a large portion of the current MS1 and MS2 curriculum, which teaches over 250 students each year and engages more than 200 faculty members in the process. The material covers a wide swath of content, including empathy and compassion. As an academic community leader for 10 years, I was additionally connected to our faculty and students, providing me with a real time sense of the issues and well-being of our school. In my role as associate program for the UCSD internal medicine residency for 7 years, I helped to guide the education of our doctors in training. Over the past 3 years, I co-developed a unique Innovations in Healthcare educational platform that enables students, residents and faculty to learn about the innovation landscape and engage in projects with counterparts in engineering and business.  Finally, as a practicing internal medicine physician, I have an intimate awareness of the clinical environment. One of my strengths as a clinician and role model is in delivering empathetic and compassionate health care. I have earned many awards related to these abilities and have stacks of evaluations and testimonials from students, residents and patients, further indicating that patient focused care is at the core of my efforts.
Roopali Gupta, M.D. is an Associate Professor of Health Sciences in the Division of Geriatrics, Gerontology and Palliative Care. She provides primary care for older adults, with an emphasis on health maintenance, disease prevention and treatment of acute and chronic illnesses.  She completed her undergraduate and medical degree at the University of Michigan (Go Blue!) followed by her IM residency and Geriatrics fellowship training at University of Texas Southwestern Medical Center. Developing and implementing education programs bring significant meaning to her professional life and career.  She currently serves as the Program Director of the Geriatric Medicine Fellowship program and a Co-PI for a large multi-institutional Geriatric Workforce Enhancement Grant that focuses on providing age friendly healthcare training in academic and community settings.  Spending time with family, travelling, and staycation beach time/hiking/exploring keeps her heart beating happy outside of work!
Simerjot Jassal, M.D. is a primary care doctor at the VA where she has the privilege of caring for a panel of patients for nearly 20 years. Since 2014, she has served as the Program Director for the UCSD Internal Medicine Residency Program; she was an Associate Program Director for 9 years prior to that.  She is passionate about teaching and mentoring medical students and residents.
Jess Mandel, M.D. serves as the Kenneth M. Moser Professor of Medicine, as Chief of the Division of Pulmonary, Critical Care, and Sleep Medicine, and as Vice-Chair for Education in the Department of Medicine. Prior to his current position, he served as UCSD's Associate Dean for Undergraduate Medical Education for 12 year, as an Assistant Dean at the University of Iowa, and as Internal Medicine Program Director at Beth Israel Deaconess Medical Center in Boston. He received his undergraduate degree in history from Brown University, his medical doctorate from Baylor College of Medicine, and completed his internal medicine residency at Beth Israel Hospital and his fellowship in pulmonary and critical care medicine from Brigham and Women's Hospital. He lives in La Jolla with his wife, Meg Leopold Mandel.
Cameron McGuire, M.D. was born in Chicago, but raised in Baltimore, MD. In college he became fascinated by the history of science and medicine and wrote his history thesis on the sociology of Charles Darwin's concept of natural selection. Since college he has followed a circuitous path with stops at: the NIH doing research on cardiac myocyte survival and vascular smooth muscle cell migration, the University of Chicago doing research on DNA repair following exposure to ionizing radiation or cisplatinum, Tulane University doing research on the role of endothelin signaling in intrarenal renin production, and University of Colorado doing research on heart failure medication adherence and nonpharmacologic interventions for the acute respiratory distress syndrome. Ultimately, he hopes to pursue a research career in pulmonary physiology, pulmonary vascular medicine, and their overlap in the ICU. His interests include: cooking, travel, jazz, history, classic movies, and cocktails to name a few.
Tricia Santos Cavaiola, M.D. is an Associate Professor of Medicine in the division of Endocrinology at University, of California, San Diego. She earned her medical degree from Oregon Health & Science University and completed her residency training in Internal Medicine, Chief Medical Residency, and Fellowship training in Endocrinology at the University of California San Diego.  She is currently a clinical endocrinologist who specializes in treating inpatient and outpatient diabetes and loves conveying her enthusiasm for diabetes to medical students, residents, and fellows.  She has an interest in medical education serving as the director for the 2nd year medical school course in Endocrinology & Metabolism, Fellowship Program Director in Endocrinology, and former Associate Program Director for the Internal Medicine Residency program. Outside of medicine and teaching, she spends her time with family and enjoys paddle boarding with her husband and two daughters.
Meghan Sebasky, M.D. is an academic hospitalist and Health Sciences Clinical Professor at UC San Diego. She received her medical degree from Creighton University School of Medicine and completed internal medicine residency at the University of Minnesota whereshe was also a chief medical resident before joining the UCSD Division of Hospital Medicine in 2011. Dr. Sebasky is currently the co-director of the Internal Medicine clerkship at UCSD School of Medicine. Her areas of academic interest and expertise include feedback in the clinical setting, peer rounding, and empathy, particularly as it relates to students in the clinical years of medical school. Outside of the hospital, Dr. Sebasky might be found running, perfecting the art of making an epic charcuterie board, or working on improving her Spanish skills.
Ashish Shah, M.D. is an Assistant Professor within the Department of Pediatrics in the Division of Pediatric Emergency Medicine (PEM). He traversed the Midwest for his education, earning his Bachelors degree at University of Minnesota, Medical degree and Medical College of Wisconsin, back to the University of Minnesota for Pediatric residency, and finally at Cincinnati Children's Hospital Medical Center for PEM fellowship. During his time in fellowship, he obtained a Masters in Education degree from University of Cincinnati. He finally realized that snow was something better to visit than chronically live in and made his way to UCSD. He currently serves as the fellowship director of the new Simulation Fellowship program. He is also the Co-Director of the PEM Residency Rotation at Rady Childrens and a Master Clinician in the Master Clinician Program. He has a passion for making education interesting, utilizing media, simulation, mixed reality, and gamification to better teach and engage learners at all levels of medical training. His clinical interest lies in pediatric resuscitation and airway management.
Preetham Suresh M.D. serves as Associate Dean of Simulation Education for the School of Medicine, Clinical Professor and Vice Chair of Innovation and Entrepreneurship in the Department of Anesthesiology, and Staff Anesthesiologist at the VA, San Diego.  His clinical interests are regional anesthesia techniques including ultrasound guided peripheral nerve blocks and neuraxial anesthesia.  His research interests are in optimizing procedural skill acquisition through technology enhanced simulation including use of 3D printing, sensor enabled simulators, motion tracking and augmented reality.  Outside of medicine, he loves going out to eat, spending time with his wife and 2 kids, and mountain biking in Penasquitos canyon.
Helen Wang M.D. is an Assistant Clinical Professor of Pediatrics in the Division of Academic General Pediatrics, Newborn Medicine, Developmental & Behavioral Pediatrics.  She completed her undergraduate studies at the University of California, Berkeley and has stayed on at University of California, San Diego (UCSD) since medical school.  She currently practices as an outpatient primary care pediatrician.  She is involved in teaching all learner levels (first year through fourth year medical students and pediatric residents).  She serves as one of the Research & Scholarship Collaboration leaders for the international Council on Medical Student Education in Pediatrics.  She currently has two grants studying sense of belonging in medical students and how it affects students' professional identity formation.  She enjoys creating and delivering new curriculum and conference workshops to build students, residents, and faculty skills and knowledge base in the realm of medical education.  
This is a year-long course that focuses on three key competencies including foundational teaching skills, administration, and educational theory and practice. It is separated into synchronous didactic component, experiential learning, and a capstone project.
The synchronous didactic component is held across four Monday half-days in August from 8:00 a.m. – 12 p.m. The curriculum includes didactics and small group learning sessions covering how to give an effective lecture, small group facilitation, bedside teaching, teaching clinical reasoning, leadership skills, communication styles and skill development, education scholarship, curriculum development, adult learning theory, feedback and assessment, and professional advancement as a clinician-educator.
Following the synchronous component of the curriculum, participants are expected to participate in experiential teaching where they will be directly observed and assessed on their teaching methodology by their assigned mentor with collaborations with Master Clinician Program (MCP). Additionally, participants are encouraged to attend monthly courses in the longitudinal Pediatrics Fellows as Clinician Educator Track (FACET) and the monthly Medical Education Grand Rounds and Journal Club by the Continuing Medical Education (CME) Office. Lastly, participants complete a scholarly capstone project under the supervision of their mentor.
2023-2024 Schedule
August 7 8:00 a.m. – 12 p.m
August 14 8:00 a.m. – 12 p.m
August 21 8:00 a.m. – 12 p.m
August 28 8:00 a.m. – 12 p.m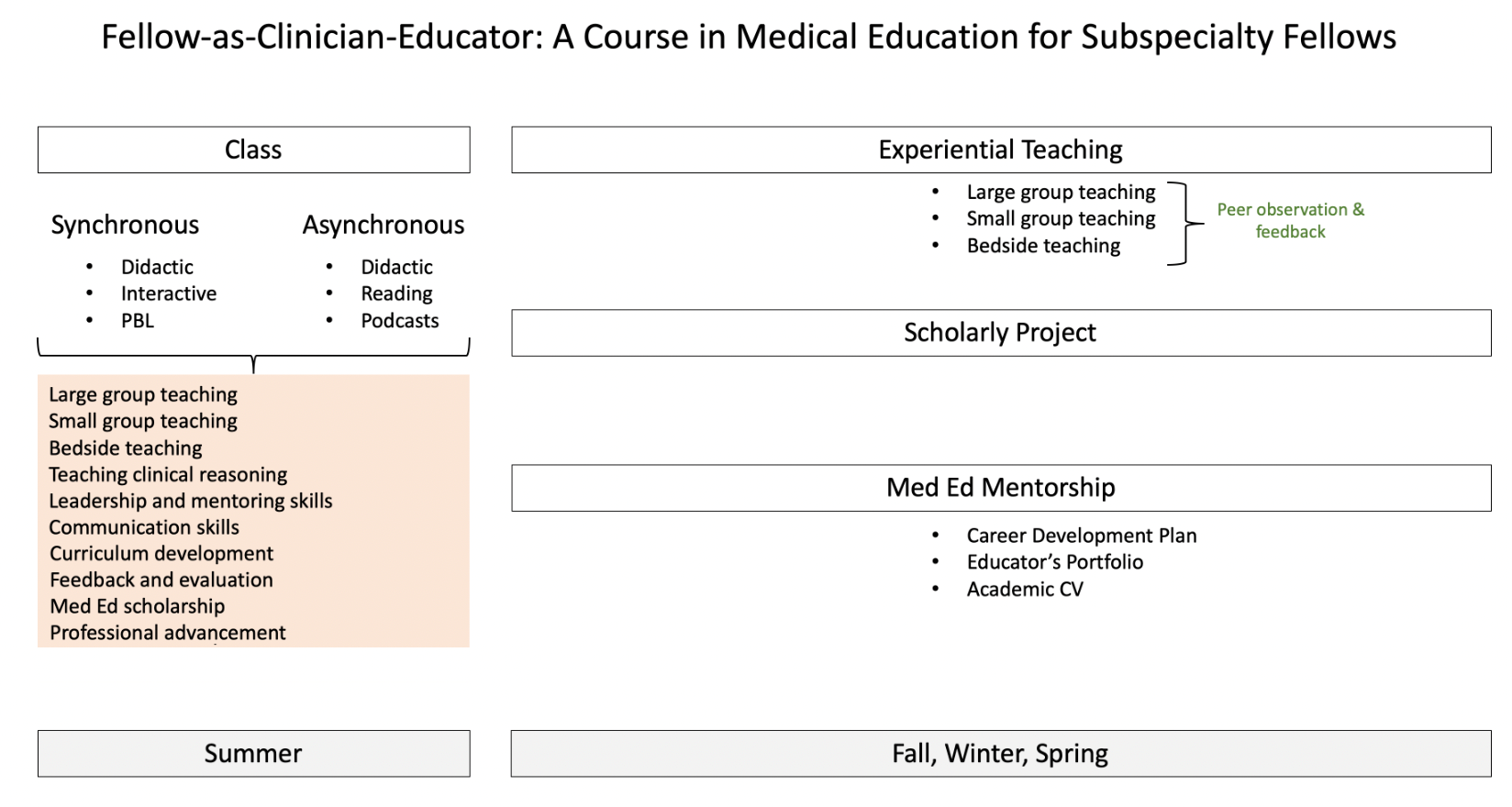 We are dedicated to helping to train the next generation clinician-educators. 
If you have any questions about this course, please feel free to send your inquiries and/or comments to Darcy Wooten and Erica Lin.